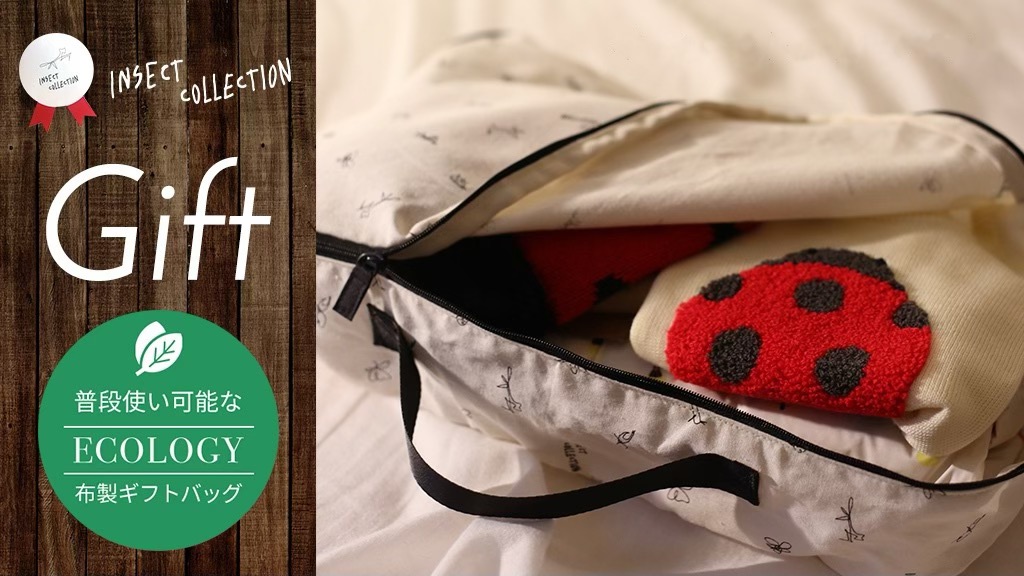 About half of the customers who purchase insect market are present applications.
Birthdays, anniversaries, gifts for distant grandchildren, and so on.
It is a great honor and a strong feeling to be able to choose our brand as an action to make children smile on special occasions or on days when they are not.
Insect Collection and INSECT LAND with such a large demand for gifts, but for a long time since the establishment of the brand, we did not accept gift packaging for online purchases.
It's exciting to untie the ribbon of the present and solve the paper little by little.
I think it's a moment that children love.
However, since we started out as a clothing brand, we couldn't give up our desire to make the loss of packaging materials as much as possible.
And, it was born, and it was"Insect sign monogram gift bag".
I purchase it for 640 yen, and i attach a red ribbon and send it, but the seal is peeled off, and it is a bag which can be used after.
I thought about nature through the cute insect items, and from the gift bag I took out, I asked them to give a chance to talk about the 3R's "Reduce- Garbage Suppression" and "Reuse" and "Reuse" repeatedly.
Insect sign monogram adopted is very popular with adults and children in a simple design!
Because it is a light cotton material even if I take it, i am popular when the width that I can use such as a diaper putt and a travel pouch is wide.
However, the environmental cost of logistics is generally large, and we are still aware of many challenges.
In Northern Europe, we understand that the reuse system for packaging materials, which is already infested, will cause inconsistencies in operation, but we are still discussing it.
In order to become a brand that can make children's smiles today and in the future, we strive to create responsible products and services for the earth.
▲この記事いいなと思ったら!