I'm finally about to finish the long school holiday, but the season is almost rainy season.
It's a million years of trouble to pick up and receive in the rain.
Insect Collection released rain goods for the first time this year.
I adopted a light blue base that I wanted to use for genderless use, and was conscious of the coloring that shines energetic yellow.
Some children, especially small children, like rain.
If you are a child withno fixed concept, the idea that the sky is crying and the feeling that you can enjoy in puddles of splashing water in accordance with your own steps.
"Every day you can use your favorite umbrella that you can't use. It seems to be one of children's happiness.
Insect Collection's umbrella has a transparent sheet, and it is designed to be able to see the appearance of the child from papa mama.
In addition, children's I wanted to hear, so as not to be in danger even if you open the umbrella by yourself, dare not adopt one push button, i made it to the design that it is easy to open and close even children.
※M size was sold out.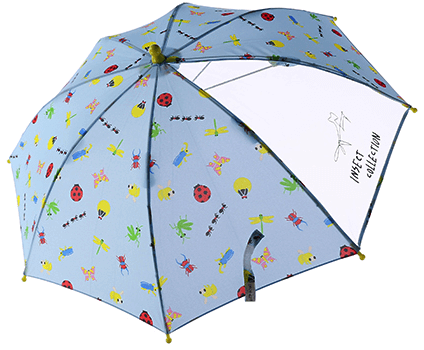 Raincoats and rain ponchos are also particular about each size.
Rain ponchos are available in S and Medium sizes for children who are walking around.
It is the development in a small size to demonstrate the cuteness of the poncho without regret.
The raincoat is available in medium and large sizes. Even if papa mama didn't help her, she assumed that she was old enough to walk on her own, and made it transparent around the hood so that the view would expand.
In addition, elementary school children, when carrying a land cell, if you remove the snap button on the back, it becomes a silhouette pattern along the shape of the land cell.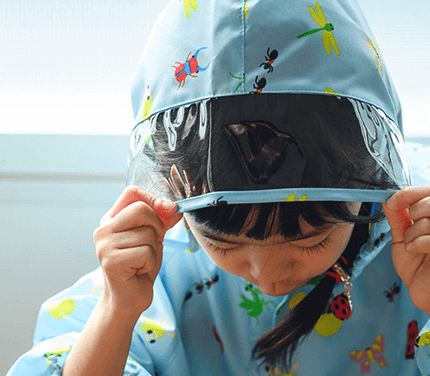 In addition, rain shoes, school bags, and stroller covers are developed with the same design.
It is glad if the family together can enjoy the day of rain with the rain goods that pretty insects are printed all over.
▲この記事いいなと思ったら!